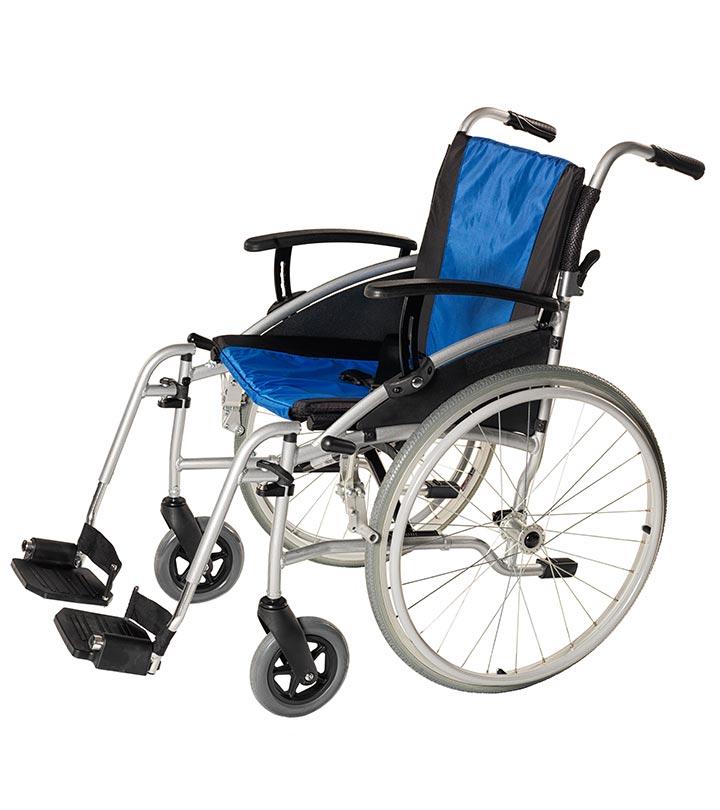 A wheelchair is a wheeled mobility device that is propelled manually by turning the wheels with your hands or via various automated systems. This mobility device is used by people who experience difficulty in walking that may result from illness (physical or psychological), injury, or disability.
In this review article, we will take you through the 6 best lightweight chairs available on the market. The detailed buying guide at the end of the article will help you choose a wheelchair that suits your requirements.Wheelchairs are one of the most commonly used mobility assistive devices. They are available in all shapes, sizes, colors, designs, and features to suit the varied needs of the users. Though there are many types of wheelchairs available on the market, it is recommended to opt for a lightweight wheelchair as it is convenient and portable.
Benefits Of Lightweight WheelChairs
Lightweight wheelchairs offer enhanced mobility and freedom. They are easy to propel and maneuver when compared to the standard wheelchairs. Here are a few advantages of a lightweight wheelchair:
Here are the 6 best lightweight wheelchairs you can consider buying.
6 Best Lightweight Wheelchairs
The Drive Medical Lightweight Wheelchair has a durable steel frame and provides reliable stability whether it is used independently or with assistance. The weight-bearing capacity of this wheelchair is 250 pounds, which makes it a good option for many people. It offers superior maneuverability in narrow indoor spaces.
This wheelchair comes with cushioned armrests and swing-away footrests that ensure comfort. The chair and backrest fold flat, which makes it easy to transport. Its comfortable seat makes sitting for long hours a comfortable experience, and the nylon upholstery is easy to clean.
Pros
Cons
The Medline Lightweight Transport Wheelchair comes with large 12-inch rear wheels for enhanced performance on uneven outdoor terrain. The loop-style manually operated hand brakes are perfect during transfer. The weight-bearing capacity of this wheelchair is 300 lbs.
This is a foldable lightweight wheelchair that makes it easy to store and carry during travel. The back of this chair folds down to make it more compact. It features full-length permanent armrests, a detachable footrest, a seat belt for safety, and nylon upholstery.
Pros
Cons
Drive Medical's Blue Streak Wheelchair features cutting-edge design. The premium swing-away legs and detachable desk arms flip backward for advanced versatility and easy transportation of the product. This product is ergonomically crafted for comfort to make independent mobility easy and enjoyable.
The tires are made of solid rubber and are mounted on composite wheels. This guarantees a consistently smooth ride for the user. The push-lock design lends extra safety to this wheelchair. The sleek blue powdered frame is finished with durable steel to prevent cracks and chipping. The nylon upholstery of the chair is easy to clean and low maintenance.
Pros
Cons
The NOVA Lightweight Transport Chair is designed to provide easy, lightweight patient transport. This wheelchair is easy to maneuver and fold. The secondary wheel locks and detachable anti-tippers add to the safety of this product. The patented locking hand brakes and the 12-inch rugged rear wheels allow to control the speed and park the brakes.
The wheelchair features an adjustable seat belt and a small storage pouch to keep your keys and cell phone. The padded desk arms are removable and flip-up and make transferring the user from a car, bed, or chair much easier. The footrests can be removed and locked back into place easily. They are easy to adjust and come with heel loops, so the user can rest their feet.
Pros
Cons
The Forza FCX can be easily folded, without needing to disassemble. This wheelchair includes spacious under-the-seat storage, removable seat cushion and backrest, and a flip-up footrest for added comfort. The ergonomic design provides maximum comfort.
This powered wheelchair can be driven in grass, gravel, or snow – the shock absorbers ensure a smooth ride on all terrains. The heavy-duty front casters and forks are made to handle the impact of any surface as well as high weight capacity. This wheelchair is powered with a 250-watt motor. The smart aluminum craft alloy frame matches the footrest and lends this wheelchair a stylish look. It comes with a joystick that is set for right-handed operation.
Pros
Cons
The Karman S-Ergo 105 Lightweight Wheelchair comes with the unique S-Ergo (intelligent S-shaped ergonomic seating). This wheelchair features a tube in the center footplate that provides better leg support. The foldable backrest and seat make it easy to carry this wheelchair while traveling.
The antibacterial upholstery controls and eliminates odor and unsightly stains. The ergonomic handrim enhances comfort and mobility so that you are able to propel the chair with minimal effort. The wide arm pad offers comfortable support to the elbow and reduces the risk of developing ulcers and scoliosis.
Pros
Cons
Please make sure that you choose a wheelchair that offers safety and ease of movement. A sturdy wheelchair that supports your weight and features safety mechanisms is a great choice.
You will find a wide variety of wheelchairs available on the market with respect to size, color, features, and design. We have compiled a list of the different types of wheelchairs in the next section.
Types Of Wheelchairs
Here's a buying guide with a list of a few factors you need to consider to choose an appropriate lightweight wheelchair:
Buying Guide – How To Choose An Appropriate Lightweight Wheelchair
When buying a wheelchair, make sure you select one according to your body weight. This is very important for the safety of the user. For people with large and heavier bodies, a bariatric wheelchair is a good choice. On the other hand, small or pediatric users should use wheelchairs designed according to their needs.
A lightweight chair allows for great mobility and independence of the user. One more factor that adds to the brownie points for lightweight wheelchairs is the foldability. Go for foldable options as they are portable and easy to store and carry while traveling.
This is one of the most important considerations that you need to bear in mind while purchasing a wheelchair. Do you want a manual wheelchair or a motorized one? This has more references than just being about the user's preference. Sometimes, the users do not possess sufficient arm strength to propel the wheelchair, and for such people, a powered wheelchair is an ideal choice.
Before buying a wheelchair, think whether you are going to use it as your primary or supplementary form of mobility assistance. If you require a wheelchair for supplementary support, you can opt for a lightweight, portable, and economical chair. If you need a wheelchair post-surgery for recovery, you may like to consider a stand-up wheelchair. These wheelchairs, apart from providing the basic functions of a wheelchair, also provide standing support for easy ups and downs. For someone totally dependent on wheelchairs for mobility, choosing one with an ergonomic design will be ideal for adequate support and comfort.
Different designs of wheelchairs, depending on the varied support and positioning needs of the users, are available. Make sure you choose one that fits your requirements. If you are someone looking for upper body support, go for a high-back reclining wheelchair. Those who like to traverse multiple terrains should opt for all-terrain wheelchairs.
The purpose for which you are buying the wheelchair is also an important consideration. If you want a wheelchair to get in and out of the pool or go to the beach, choose one that has been specifically designed for these purposes. Similarly, transport wheelchairs and aisle wheelchairs are purpose-driven. They are designed for specific settings and functions and help to move patients over short distances in more commercial settings.
Unlike big and bulky wheelchairs, lightweight wheelchairs are a great choice for simple and quick transportation. They offer ease of movement and make the user more independent. We hope that our list of best lightweight wheelchairs will help you find the right product – one that fits your needs and requirements.