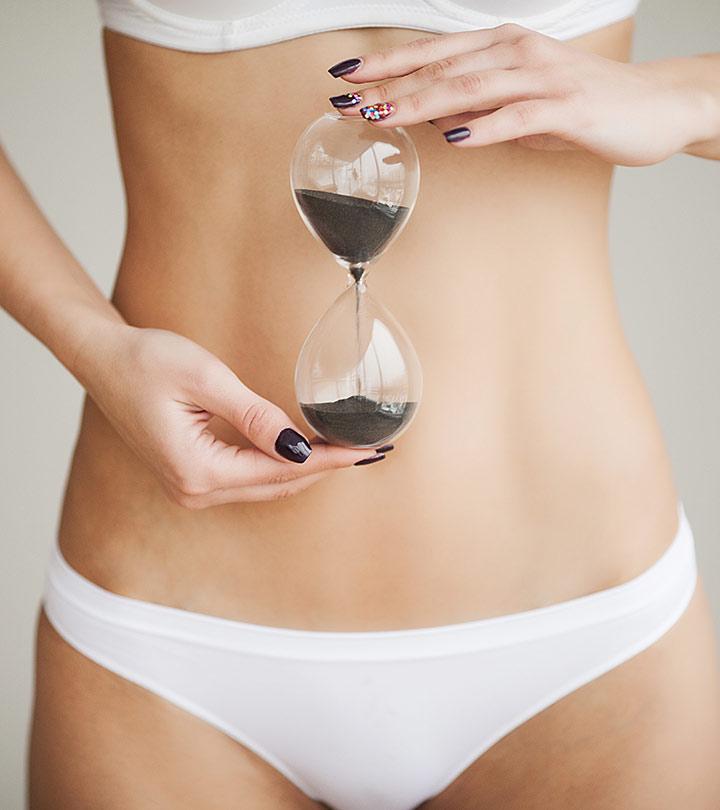 There are numerous products women use to deal with their periods – from panty liners to tampons and from menstrual cups to sanitary pads. If you have tried everything but are not satisfied with the results, you can try period panties. Here's all you need to know about period panties. We have also listed 11 of the best period panties available online. Take a look.
This set of menstrual briefs from Yoyi fashion offers relief during the days of heavy flow. These briefs are to be used with pads to prevent leakage and spills. Women who get heavy periods or are experiencing postpartum bleeding can use these leakproof, easy to clean, and comfy briefs that can protect from overflow. The body-hugging briefs do not irritate the skin. They are made of a nylon, cotton, and spandex blend for better support and comfort.
Pros
Cons
These period protective panties are specially designed for days with heavy flow, so you can get extra protection from leakages and overflow. If you have to deal with heavy blood flow during the initial days, wear these panties with your menstrual cup, pad, or tampon to prevent leakage. They are available in two colors (Black and Nude) and offer the perfect fit for all sizes from XS to 4XL.
Pros
Cons
If you are looking for a highly absorbent and a full-coverage panty, this one is for you. The Evawear Period Panty can be used alone without tampons or pads and is designed for daytime/night time and front/back sleepers. It offers coverage from front to back and is great for women during their menstrual cycle and postpartum recovery.
Pros
Cons:
If you worry about leakage and stains while you are on your period, try the Funcy Menstrual Period Panties. These panties are black and work well for heavy bleeding days or postpartum bleeding. It has a water-resistant lining that uses three layers of regenerated cellulose fiber to prevent leakage. The protective brief must be used with tampons, pads, or menstrual cups.
Pros
Cons
These leakproof briefs are great for medium to light flow during periods. You can combine these panties with sanitary wear for maximum protection and leakage prevention. These are sporty briefs that you can wear for workouts, sports, and rigorous activities while on your period. The briefs are for girls who perform sporty activities and are active sleepers.
Pros
Cons:
This set of five highly absorbent and leakproof panties will keep you dry and safe through the day and night while you are on your period. The panties are front and back absorbent, moisture-wicking, and offer leak protection for menstruation, postpartum, and urinary incontinence. These are hipster style panties with no ride-up elastic bands and full back coverage.
Pros
Cons
These leakproof briefs are not only super absorbent but also stylishly designed. They are made using cotton and spandex and are great for menstrual cycle heavy flow, postpartum bleeding, fecal and urinary incontinence, postnatal recovery, and weak bladder control. The panties are designed to hold sanitary pads and prevent leakage. The inner lining is made of cotton fiber and polyester, which provide leakage protection in the center and rear of the underwear.
Pros
Cons:
These maternity hipsters by Innersy are designed to absorb heavy menstrual flow during periods, postpartum, or C-section. The hipsters are made of 95% natural cotton and 5% spandex, while the cotton lining is made of 100% premium cotton. The extended crotch lining and broad surface make them more absorbent and prevent messy stains on the sheets.
Pros
Cons
These fancy period panties are ideal for teenage girls and women and offer great protection against unexpected leaks during periods. The leakproof layers on the front and back catch and absorb leakage. They have a built-in absorbing layer up to 20ml capacity. You can wear them directly for light days, spotting, postpartum bleeding, and stress leaks.
Pros
Cons
These body-hugging bikini panties by Modibodi prevent leakage during heavy flow, postpartum bleeding, or urinary incontinence. They are made with a patented three-layer Modifier Technology. They are super-slim (only 3mm thick), so there's no bulky, uncomfortable feeling. These period and incontinence panties are made of breathable, antimicrobial certified organic bamboo viscose, which is a sustainable and renewable fiber.
Pros
Cons
These disposable period panties come with a built-in pad and offer up to 12 hours of leakproof protection. They absorb 3X more than any pad or tampon and are made with a special spandex thread that offers a comfortable and curve-hugging fit. The pad is sewn into the panties, and it stays in place without shifting and protects against leakages. You can use these panties during your menstrual cycle, menopause, postpartum, mild incontinence, and while traveling.
Pros
Cons:
Before purchasing a period panty, there are certain things you need to know. A single panty doesn't work for everyone, and thus, you need to analyze certain features, like the fabric, size, leakproof ability, and certain other things that are mentioned below.
Important Things You Should Consider Before Buying Period Panties
Period panties are generally made of cotton. Premium cotton-based panties offer more comfort and prevent leakage. Panties with double or triple cotton layering offer better absorption and thus are great for preventing stains. Most period panties are made with 90% cotton and other blends like spandex or polyester for better stretchability.
Most of the period panties are highly leakproof. They come with double or triple absorbent layers that prevent leaks and stains. However, the panties that are to be worn without tampons, cups, or pads are more leakproof and offer better absorbency.
Most of the period panties, be it thongs, briefs, hipsters, or normal panties, are available in a range of sizes, from XS to 4XL. Choose the size that keeps your pad in place and fits your body without hurting or irritating your skin.
The period panties are available in different styles. From printed to plain panties and from lacy thongs to classic briefs, there are plenty of patterns and styles available. Pick one that you feel comfortable in.
Most period panties are machine-washable as well as perfect for hand wash. These panties are generally reusable, and thus, you can reuse them after washing.
Here are answers to a few more questions.
Which Type Of Panties Should Be Used In Periods?
While you are on your first period, you can choose panties with a double or triple lining that prevents leakage and can be worn without any menstrual cup or pad. For light to medium flow, you can stick to these panties. However, if you have a heavy flow during your periods or are recovering from postpartum bleeding, try the extra­absorbent panties that can be worn with pads, tampons, and menstrual cups to prevent leaks and stains. These panties are generally eco-friendly and body-hugging and offer a great fit.
What Are The Benefits Of Period Panties?
If you are tired of leaks and discomfort during your period, consider using any of these 11 best period panties. They are designed for every type of flow and are made of special fabrics that are layered to absorb liquids, dry quickly, and , most importantly, control odors. This will help you feel comfortable all through your period. The best part? Most of them are reusable, so all you need to do is rinse them, machine wash them, and hang them to dry and use them the next month.
Expert's Answers for Readers Questions
Are period panties reusable?
Most of the period panties are reusable. They are made using cotton and are used along with tampons, menstrual cups, or pads. You can use them after cleaning. Some period panties are disposable. These panties arrive with an inbuilt pad and are for one-time use.
How often do you change period panties?
Consider the period panties as panty liners. Change the period panties as often as you change your panty liners. Most period panties can absorb up to 20 mL of liquid, so if you often get heavy flow on the first few days of your periods, change the panty after 4-5 hours for better hygiene. If you are wearing a pad or tampon, you don't need to change the period panty every 4-5 hours; you can change it at the end of the day.
Can you swim in period panties?
Wearing only period panties in the pool is not recommended as it can absorb water and cause stains and leakages in water. If you want to swim during periods, wear a tampon or a menstrual cup and double your protection with a highly absorbent period panty. You can also wear a leakproof swimsuit to prevent any leakages. The best option is to wear a menstrual cup with a period panty.