Abdominal surgery includes any type of surgery that involves opening the abdomen area. The main types of abdominal surgery include:
Laparotomy:

opening the abdominal cavity during surgery to identify any bleeding or damage in the area. The abdominal cavity contains organs such as the stomach, liver, gallbladder, spleen, pancreas, small and large intestines and kidneys. Surgery can therefore involve any of the above organs if necessary.

Appendectomy:

the abdominal cavity is opened and the appendix removed. This may be due to appendicitis (inflammation of the appendix) or before a different abdominal procedure.

Laparoscopy:

this type of surgery is minimally invasive and small incisions (cuts) are made in the abdomen to insert tiny cameras which help the surgeon identify any problems.

Cholecystectomy:

this is removal of the gallbladder by laparoscopic surgery and is the most common minimally invasive surgery.

Bowel Resection:

surgery to remove part of the bowel.
Physiotherapy prior to abdominal surgery
Your abdominal surgery may be elective (planned) or an emergency procedure. Regardless of the type of abdominal complaint, you will benefit from a period of physiotherapy before your operation. Physiotherapy at this stage may include:
Advice on what your operation will involve

Pain control modalities

Gentle abdominal strengthening exercises to keep the abdominal strong for the operation

Cardiovascular activities including treadmill and cycling

Upper limb strengthening exercises

Lower limb strengthening exercises

Preparation for your rehabilitation programme after the operation
Symptoms following abdominal surgery
Temporary pain from the surgery

A scar where the surgeon made the incision

Paralytic ileus (temporary paralysis of the bowel)

Risk of infection

Temporary tingling and numbness if any small nerves have been damaged during the operation

Swelling around the incision

Nausea and loss of appetite

Decreased mobility and activities of daily living
Physiotherapy following abdominal surgery
You will remain in hospital for up to a week depending on your symptoms following the operation.
Week 1
During the first week, physiotherapy will concentrate on alleviating the symptoms from your surgery and preparing you for leaving hospital. Physiotherapy may include:
Pain control modalities

Cryotherapy (ice) to reduce any swelling

Postural advice to strengthen your lungs and minimise the risk of respiratory complications

Circulatory and breathing exercises

Exercises to move your pelvis

Exercises to help avoid low back pain

Advice on how best to get in/out of bed and transferring in/out chairs
Weeks 2-4
You should feel able to do more activities and the various symptoms following the operation will now be reducing. Physiotherapy will focus on:
Progression of transverse abdominal strengthening exercises

Advice on the best way to stand and improve your mobility indoors and outdoors

Advice on moving and lifting techniques to minimise the risk of low back pain

Pain control modalities as necessary

Progression of pelvic strengthening exercises

Return to cardiovascular activity

Upper limb exercises
Weeks 5 onwards
Your physiotherapy programme will aim to progress all of the previous exercises and to increase the amount you are walking and other activities of daily living that you are used to. Lifting light loads can be done after six weeks and lifting heavier loads is not advised until 12 weeks following your abdominal surgery. Your physiotherapist at Physio.co.uk will teach you the best way of lifting items in order to prevent any injuries. You will also be advised on how best to maintain a good posture to reduce additional stress on your abdominal region and operated area.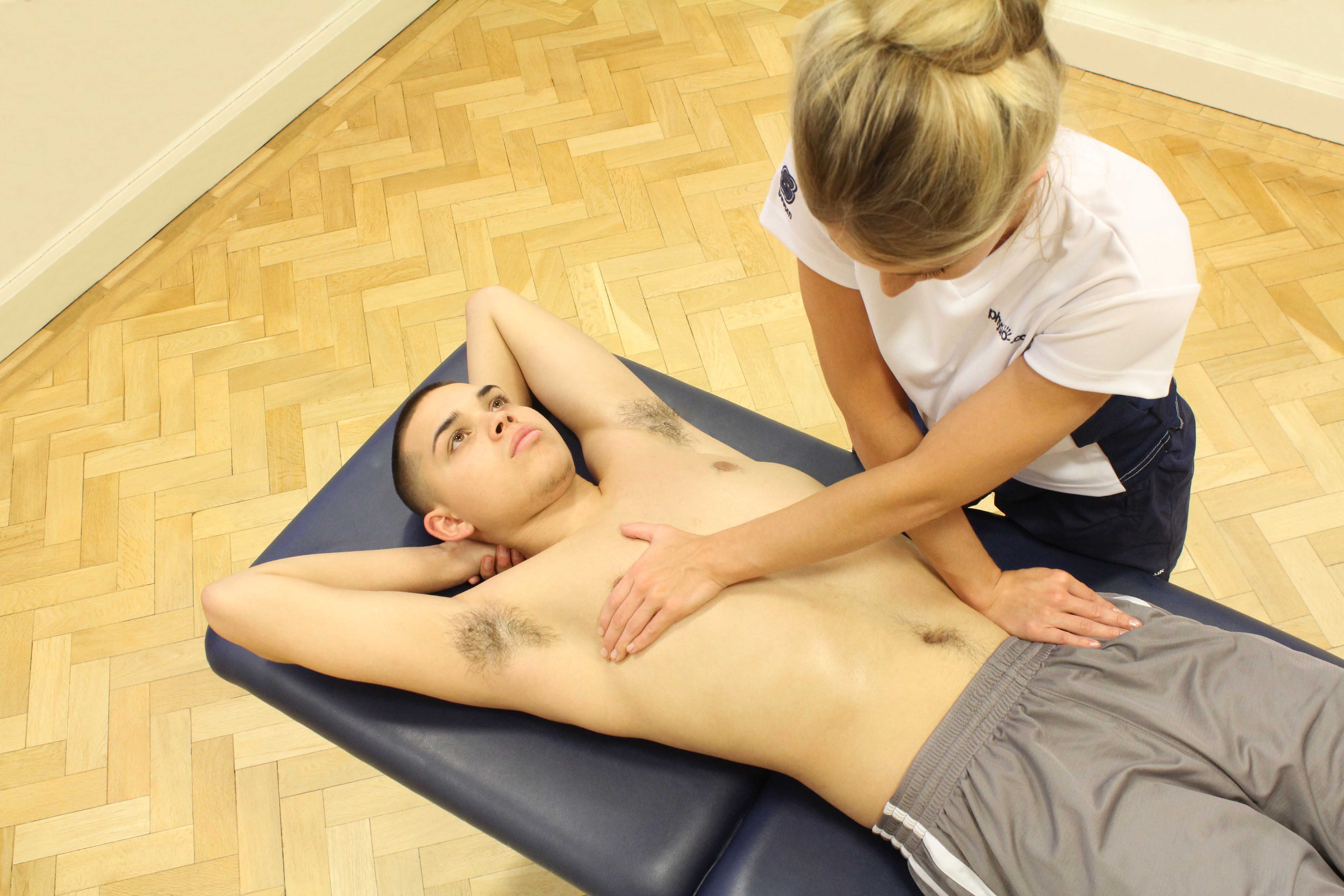 Image Source: Physio.co.uk
Summary
Abdominal surgery is a surgical procedure that can take place anywhere in the abdominal area. The main types of abdominal surgery include a laparotomy, appendectomy, laparoscopy, cholecystectomy and bowel resection. Abdominal surgery has very good success rate and this is further improved by participating in an active rehabilitation.